I got emails enquiring about happy ending massage in Yangon from some of the blog readers. So I collected information about massage places which offer happy ending service. But I would like to admit that I collected all of this information from online and among my network, so I cannot grantee that all the information will correct. But I tried my best to filter out for the most trusted information.
All of the following places offer foreigner friendly service. Actually, I got tons of information, but some of the places are not suitable for foreigners, so I removed them out. All of these places are hotels or Inn so that you can also stay there.
If you are a foreigner, you will be welcomed to have some happy ending service at Parami Hotel Spa. HJ, BJ available.
25 USD for 1-hour session and 32 USD for 1 and a half hour session
Address: No. 2, Parami Road, Mayangone Township, Yangon
G star (In term of quality, no longer recommend)
This is one the famous place among local people, but they also offer service to the foreigner. It is said that girls at G-Star are really great and professional. HJ, BJ available.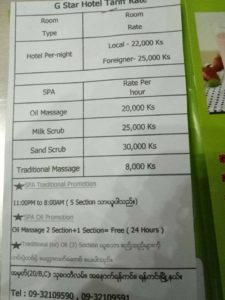 Updated: One of blog readers comment about Gstar recently: 
"Went to G Stat here last Sunday… the place is very seedy and dirty. I don't recommend going there. Girl I got massage service ok. But did not bother to ger HJ. Not my type…." 
This place is quite far from downtown, so that if you have another choice, I don't want to recommend that place for you. This place offers the service beyond the happy ending. But some local said girls at Uptown Hotel are professional. HJ, BJ + available.
Address:  No.852/D-852/E, Shukhintar Road, 4 South Ward, Yangon
This place is located in the most accessible area in Yangon. But you need to keep in mind that this place has two separated services. Excel Treasure Hotel accommodate massage services at 3rd and 4th floor. If you choose the 4th floor, you will only get a normal traditional massage service. You can ask more than that.
So if you are looking for some happy ending, you should go to the Third floor. It is named as Lavender spa. Likes Updown Hotel, you can get the service beyond the happy ending. But I am not sure for foreigners. HJ, BJ +  available
Girls at the Hub Hotel spa are cute, charming, young and also professional. This hotel is near to the Yangon International Airport. So if want to avoid Yangon downtown traffic, you can choose this hotel for your stay. HJ, BJ + available.
(Remark: The Hub spa is now closed. Thanks "Guru" for your updated info:)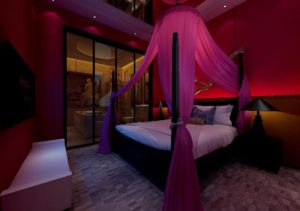 If you are looking for some luxuries services, this one is the option to choose. It is quite costly. Around 150 USD for one-hour session. And I heard that they are more welcoming to Chinese foreigner.
Minoli Beauty Spa (No longer recommend)
This spa is situated downtown. The exact place is at No 59, 44th street (lower block), Botahtaung Township. This is the new one so that they are offering a special discount for the guests. People said that girls at Minoli spa are really good looking. HJ is available on demand and you have to talk with the girl who gives massage service to you. It will cost 10,000 Kyats for HJ. The price for a message is 15,000 Kyats for one hour and 20,000 kyats for two hours.
According to the below comment, We no longer recommend Minoli Spa. 
Thanks Richard for your informative feedback. 
"I am afraid this is my second negative comment on this list. I am going through it as I wanted a change from Shwegonedaing where I have been many times. Always good but a bit expensive considering it's in a 2-3 star hotel in a down-market part of town.
I was attracted to Minoli as it was described as 'new'. What a joke. It's basically a few people occupying a run-down shop house running a massage/brothel. The sign outside is just a piece of vinyl hanging over the entrance. Inside there are a few old massage chairs downstairs and two or three cubicles upstairs. My massage table was on rickety legs, and the cubicle was not private, separated one side by a thin sheet and the other by a 3/4 height partition. I could hear everything in the next cubicle. Nowhere to hang my clothes properly, and the 'shower' is a big tank with a bowl to slosh water over yourself. I did not feel safe here. Massage was OK, but the lady was not young, not attractive, and quite plump. Minoli should not be on the same list as Shwegonedaing, RGD, Esperado etc. Those all have decent rooms in proper establishments."
Pansy Spa also provides oil massage and it is located at Eden Place Hotel in Township. HJ and BJ are available there.
Address: No 356 (B) Kyaiksan Road, Tamwe Township.
This hotel offers both traditional and oil massage at quality service. It is quite expensive for oil massage at 38,000 MMK for one session. Rooms are clean and tidy. There is an attached bathroom for each room. HJ available and professional service.
Esperado Hotel
Spa at Esperado offers good oil massage with 30000 MMK per session. HJ is also available at 20,000 MMK to 25,000 MMK depends on the girl.
New Golden Forward Hotel is located at Oak Lane, Shwe Gone Dine Township also has both oil and traditional massage service. You can even get HJ with a traditional massage session. Oil massage price is 25,000 MMK and traditional massage price is 15,000 MMK. But there are only four massage girls when I visited there. Quality of massage is acceptable.
This hotel offers quality oil massage service at the price with 35 USD. I think they are targeting to the foreign customers as they charge with USD. Local can pay with Myanmar currency with update exchange rate. But oil massage service at Cherry Hill has a very good review by most of the customers. HJ is also available there with 20,000 MMK.
The address is No. 520/4 (A), Kabar Aye Pagoda Road, Shwe Gon Taing, Bahan Township Yangon, Myanmar.
Updated on 23rd August 2018
This spa is located on the Yangon International Airport road and is attached with Yangon Airport Hotel. It offers oil massage service plus BJ and HJ available on request. Oil massage price starts at 25,000 MMK.
Contact number: Phone: 01-533354 ~ 58
This is one of the top-rated spa located at RGN City Lodge 6th floor. Massage services provide at this spa is famous for its quality. Oil massage is provided by experienced masseur girls. You can also request for BJ and HJ from them. But you need to pay some additional tips around 10,000 MMK.
But if you want good looking girls, there is a very limited option to choose at My Time Spa.
The detailed address is 6th floor, RGN city lodge, No 142/C, Min yae Kyaw Swar Road, Lanmadaw Township. Phone: 09 42 00 33 409
I will keep updating this post as I collect more information from my network and social media. But I would like to recommend you to check with your colleagues and also check with your local friends before choosing the places.
If you also have some good experience about Yangon happy ending massage, please let me know. I will update the list.
If you want to get an update about new articles, please subscribe to our blog.
Update!!!!
Guys, now this post looks like a forum. Thanks you all for contribution your experience on this post. I would like to suggest you all to read the comments under this post. You will get the most updated information about Happy Ending massage in Yangon from the comments.