Updated: 25 October 2022
You cannot have a peaceful Yangon Nightlife like in the past. But Yangon night is still wild (even wilder than in the past). Some bars and places mentioned in this post were closed, there are some new bars and places in Yangon after the Pandemic and Military Coup. I will update this post from time to time to reflect the real-world changes.
Yangon Nightlife: The Best Night Ever
Yangon nightlife is active all year round and there are so many choices for you to have a fun night in town. After exploring and shopping in the city, you might want to have a relaxing and fun night. Yangon has many nightlife destinations where you can sip on your favorite drink and shake off all the stress. Beer stations in the city have to close early around 23:00 but many bars and clubs open till dawn. If you know where to go and what to do, you will be able to fully enjoy Yangon's nightlife. Here are our highlighted suggestions on how to enjoy Yangon nightlife in extremely fun ways which will make you unforgettable.
Where to stay 
Yangon's night parties are becoming more and more lively since the country open its door. Enjoying nightlife in Yangon can be a bit challenging in the past, but now it is quite convenient and free. If you wish to stay in a place within walking distance of a nice bar or club, stay downtown. Because, most of the clubs and bars are located in the downtown area, Kandawgyi park, around Inya Lake, and near Sule Pagoda.
Where to start Yangon Night
Depending on your style and your budget, we made some categorizations in order to start Yangon night.
If you are a backpacker or you are traveling on a budget, you should choose 19th Street in Chinatown. This street was the most vibrant nightlight spot in Yangon last 3 years ago. It was full of street-side bars, beer stations, and barbecues counter, but since 2015, some of the shops were moved to the newly created Yangon night market. So nowadays, you will not see the most vibrant nature of 19th Street, but you can still enjoy some beer bars there. The famous bar at 19th Street is Kosan Bar and 7th Joint bar.
If you are a tourist or Expat with a juicy budget, you should start Yangon night with rooftop bars or dinner at some cozy restaurants. Here is our list of the best rooftop bars in Yangon.
But if you are on time limitation, you can go straight to wild nightlife by skipping dinner. 🙂
Hotels with clubs and bars
Most of the hotels with clubs and bars are quite pricy because most of them are five-star and four-star hotels. You can either stay at these hotels or other hotels which are close to these hotels.
Club 5 Music Club at Parkroyal Hotel (Temporary closed since the Pandemic)
Club 5 Music Club of Parkroyal Hotel is one of the luxury hotel bars in Yangon. It has a quality band and great DJs. This is a very expensive club and all the prices are in dollars. Therefore, the club is not crowded compared to other clubs even though the club is quite big. The service is good and the band is quite interactive. We can guarantee that this is a fun place to party and you will enjoy it.
The entrance fee is 12 USD (16,800 MMK) with one beer (free Entrance for Hotel guests). Eighty percent of the crowd are foreigners from the US, Europe, Australia, and Asia. Most are ex-pats and businessmen). The rest are rich local people. It opens until 1 AM.
You can meet Myanmar girls there and 90% of these girls are available for dating. But you need to identify which are those girls.
Pioneer Club (Still operating and still wild)
Yangon International Hotel is surrounded by bars, Pioneer club, and restaurants. Pioneer club is the most popular nightclub in Yangon among locals and tourists. You need to pay 10.000 Kyats (about $7) for the entrance fee and you will get a free beer. This is a very crowded club, it is a great place for meeting other tourists and locals. The drinks are quite cheap, so if you are on a budget, this is the right place for you to party. 90% of girls at Pioneer Club are also available for dating. You need to check if it's close time at night. 
Muse
Another club called Muse is also in the Yangon International Hotel Complex and it is less crowded. It is an expensive upper-class club, therefore it is less busy compared to Pioneer. You will be asked to open a bottle of alcohol, therefore you'd better go there with a group of friends.
Cele Bar (This place is closed… but there is another Cele bar, a different one in South Okkalapa)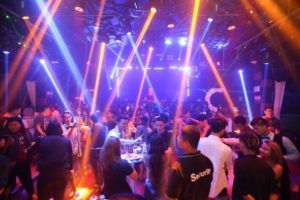 Cele Bar (formerly known as DJ's Bar nightclub) is located in the Inya Lake Hotel complex, and it is quite far from downtown. If you are staying in Inya Lake Hotel, you can go to either Cele or Sport Bar. As it is named as Cele Bar, you can see some famous Myanmar celebrities there. The entrance fee is around 10 USD and you can get a free beer. The dance floor is small and usually very crowded but there is a small beer garden at the entrance. However, the medium-sized bar is quite spacious and usually not crowded. It opens daily until 4 AM. Sometimes there are celebrity party organized at Cele Bar.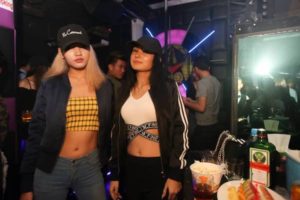 You will see many girls, but only a few girls are available for dating especially KTV girls. Most of the girls are coming to Cele bar in group and some of the group are top celebrities of Myanmar.
Sport Bar (Closed since May 2022 for renovation)
Sport Bar is a walking distance from Cele Bar. It has a open space garden. Crowd are mid to upper level class customers.
Other popular bars and clubs
Fuse Nightclub (Still functioning)
It is located on the rooftop of Myanmar Plaza and only upper-class people spend their nights at this club. The entrance fee is 20,000Kyats but if you book a table and buy a bottle, the entrance fee is only 10,000Kyats. The fuse is usually crowded so you should book a table before you go and it closes on Monday and Tuesday. 80% of the crowd are rich local people including celebrities. Only a few girls are available for dating. So beware of it.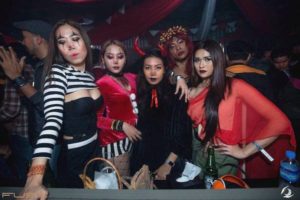 BME Entertainment
BME is also another upmarket club and one of the most expensive club in town. Entrance fee is 15,000Kyats but if you are going there in group, it is cheaper if you open a bottle. It is located near Inya Lake and it opens until 4PM. Only a few (around 20%) of girls are available to date. Most of these girls are KTV staff or hostesses.
The Vibe and Brave Bar
These two party destinations are very popular among upper-class Burmese youths and there is no entrance fee. They are more busy on Friday and Saturday. The Vibe got DJs but the Brave Bar doesn't and it just opens EDM music. These places open everyday until 1 AM (weekdays) 3AM (weekends).
Double happiness and Kosan Bar
You will find many fellow tourists and backpackers in these places. Since it is in downtown, it is quite convenient for you to travel. It is located in china town and you can find many good hotels and guest houses around this area. The price of food and drinks in these bars are quite cheap, therefore it is always quite busy and crowded.
7th Joint bar
If you prefer live music, 7th Joint Bar is the most suitable bar for you. It is quite a small bar and filled with foreigners and a few locals. This bar is the best place for you to meet new people and get accompany. The singers are professionals and they sing both Burmese and English songs. The price is quite alright and the food is good although they have a limited dining menu. It opens everyday until 1:30 AM.
Clubs at Mingalar Mon Market
if you are the adventurous one, Clubs at Mingalar Mon plaza are the right place for you. Mingalar Mon Market is quite famous among party-goers because it hosts many famous nightclubs in town.
JJ Entertainment (Close Down)
It was one of the most entertainment area in Yangon. But now it is closed down.
9-Floor Entertainment club
It is located on the 9th floor of Minglar Mon Market and it is quite spacious. You will find less foreigners and more locals in this club. The entrance fee is cheaper and it is only 4,000 kyats. It also open until 2 AM.
Asia Entertainment City Club
This is the largest nightlife place in Yangon and offer all kind of nightlife activities like spa, KTV, fashion show and also a disco. It is really one stop nightlife service. Most of the crowd are Chinese. All the girls at Asia Entertainment City club are available for dating.
Nasa Club
As far as we experienced, Nasa Club is the most exotic and the most underground style nightclub in Yangon. Environment is always busy at Nasa Club. There is also a short-time hotel room available at Nasa Club. You will know what is the meaning of short-time room. Entrance fee is 5000 Kyats.
There are many KTVs in Minglar Mon Market as well.
Aha…. Massage
If you are a massage crazy, you have many options to choose. You can also read about massage guide on our blog. If you are looking for happy ending massage, you can read this: Yangon Happy ending massage   
If you would like to get the best massage touch: read this: To 5 most relaxing Spas and massage in Yangon 
How to get around
If your place is in a spitting distance from the bars/clubs, all you need to do is walk there. If not, the only option is travel around by taxi. You can easily find a taxi around the city at anytime, so it is quite connivence. But the taxi drivers tend to ask high price if the customer is foreigner. If you don't know how to negotiate the taxi fee, you'd better use Grab instead.
Update 19/11/2018
Sport bar at downtown (at Strand road) was burnt down by heavy fire on 18th November night. I think it will take some time to re-operate it.