Singing is not the only reason why you are looking for a KTV? We know exactly what you are looking for and what information you need. There are many KTVs joints that have girls for your accompany by chit chatting, singing together or something more. Some of the KTVs have fashion-shows and some of them are very pretty but those are not the strip clubs. If you love this type of entertainment, here is our list of popular underground KTVs in Yangon. If your agenda to visit to Yangon is to enjoy Yangon nightlife, visiting to KTV will be one option. Yangon is not like other cities in South East Asia, so call girl or escort service is not functioning properly in Yangon (I don't mean that there is no call girl in Yangon, but what I mean is you will not able to find easily unless you have local friends). So that the easiest way to get a girl in Yangon is to go to KTV and Club.
Emperor Club and KTV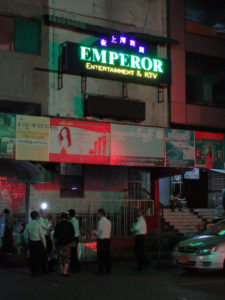 Emperor is located in downtown Yangon and it is mostly popular among Asian guests but many westerners also visit there. Since this is one of the most upper-class underground KTV venue, the girls are quite expensive. The entry fee is only 5000 Kyats. You can enjoy fashion shows everyday and the girls are available for Karaoke. After enjoying the fashion show in the lounge, you can choose girls and head to the KTV rooms.
Girls price
50,000 to 100,000 Kyats for short stay or until morning
JJ Entertainment Centre – JJ's
JJ also have both club and KTV venues and it is located near Kandawgyi Lake. The admission charge is 5 USD and you will get a draught of Dagon Beer for free. Once you get inside, the beautiful girls will approach you. You can pick a girl to dance with you on the dance floor or sing with you in KTV. You will be a bit annoyed by the waiters looking for a tip.
Girls Price
40,000 to 60,000 Kyats for short stay or until morning
Royal KTV
There are many talented girls with good singing voices in Royal KTV. Royal is crowded with men looking for more than a song. Royal charges between 5000 to 8000Kyats per-hour for the use of a KTV room but the girl prices are excluded. This place is a bit more crowded with local than foreign guests. The girls usually charge the foreign customers more than local customers.
Girl price
50,000 to 80,000 Kyats for short stay or until morning
Asia Entertainment City
Asia Entertainment has got everything in one place. It occupies the 7th, 8th and 9thfloor of a building in Minglalar Market and KTV is located on the 7thfloor. KTV rooms are not so special and quite small. The working girls are always stand by to entertain you with good singing voice and plus plus plus. Asia Entertainment City also have massage Spa with a plus plus.
Girl Price
40,000 to 60,000 Kyats for short stay or until morning
NASA Club and KTV
NASA is located on the 4th floor of Mingalar Mon Market and the same building as the MZ Hotel. 50% of the girls in NASA are working girls and they will approach you, so it is easy to distinguish. KTV rooms are a bit ok and the girls are not very expensive. However, it is a great fun place.
Girl Price
30,000 to 50,000 Kyats for short stay or until morning
9F Nightclub, KTV and Spa
9F is also located in Mingalar Market and on the 9th floor. The spa is quite popular with a plus but the club is too loud. So, you better head to the KTV rooms and girls will automatically approach  before you enter the room. Not all the girls are prostitutes but mostly freelance prostitutes. You need to negotiate the price because they tend to charge high price to the westerners.
Girls Price
50,000 to 100.000 Kyats for short stay or until morning
At most of the KTV you can negotiate with a girl to take her out, but some of the KTV don't allow their girl during duty time. For this case, you can get her number and make a date outside. Some of the are freelance call girls.
If you are looking for other entertainment in Yangon, the following post will be helpful. It features all the Yangon nightlife entertainment in more detail.
Read here: How to Enjoy Yangon Nightlife 
If you are a massage guy, this guide will bring you a fantasy.
Read: Happy Ending Massage