Rooftop bars are becoming a city-wide trend and many people across Yangon are spending their nights at the rooftop bars. You can take your time to look beyond the bar and gaze at spectacular city views, waterways, and golden pagodas. If you are sick of the city's crowded streets, the rooftop bars are the right place for you. Most of the popular rooftop bars are located in downtown and close to downtown. We bring you a guide to the best rooftop bars in Yangon to enjoy a cool drink and get the fresh air.
Penthouse
Just by hearing the name, you might already guess that this rooftop bar is going to be quite luxurious. Yes, it is! It is an upscale rooftop bar and it is located near the People's Park. It is well-known for having international DJs, extensive menu, and fancy design. Half of the rooftop bar is inside and half is outside. You can get the breathtaking view of Shwedagon Pagoda from this rooftop bar. It is best to make a reservation for a table in order to get the best spot on the rooftop.
Yangon Yangon Bar
Yangon Yangon Bar is on top of Sakura Tower and located in downtown. Since it is one of the highest skyscrapers in Yangon, you can see the whole city. You can have a perfect evening while enjoying the unbeatable 360 degree views of Yangon. You need to pay a cover charge of 5,000 Kyats and you can get a free drink. Since this is an extremely popular bar, you definitely need to book a table.
Atlas Bar
Atlas Bar is one of the top rooftop bars in Yangon and it is located in Sanchaung Township. Since the whole rooftop bar is outside, it has 360-degree views of the city. You can see the specular sunset over the Yangon River and you can also see Shwedagon Pagoda from Atlas Bar. They not only host Jazz nights and DJ entertainment, but also host outdoor cinema evenings. Atlas Bar is the best place to have a fun night out with a group of friends and this bar.
Vista Bar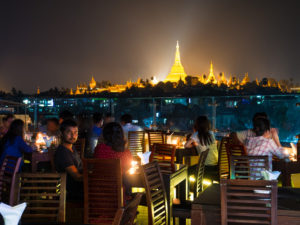 If you are looking for a bar with the best and closest view of Shwedagon-Pagoda, you should choose Vista Bar. If you don't mind overcrowding and being noisy, you can choose Vista because the tables are close to each other. Since some of the seat has the best view of the city, you should make a reservation before you go.
Esperado
Esperado bar is located on the roof of Esperado Hotel. You can not only see Shwedagon Pagoda, but also Kandawgyi lake and Karaweik Palace Restaurant. The view is fantastic and the bar stools on the edge of the balcony are the best spots for watching sunset.
Sapphire Lounge of Alfa Hotel
This is the perfect bar for a person who can easily get annoyed by the crowd and loud music. The music at this bar is not loud compared to the other bars and you can spend your night peacefully. It is a quaint bar and doesn't look very special, but it is a fantastic spot for sundowners.