When you are tired from roaming around the charming city-Yangon, you might want to get the most relaxing massage. In Yangon, most of the massage parlors are named as Spa and you can get all the basic spa treatments. You can choose the spas that include beauty-salons, if you wish to get relaxing massage, facials, and your hair done. Or, if you wish to get Myanmar traditional massage, there are some excellence spas for you to taste traditional massage. Here is the top 5 list of best spas and massage in Yangon.
Sapel Traditional Burmese Foot Spa
The Sapel Spa is the best spa where you can get traditional massage and you will definitely find it incredible. Most of the customers praise about the friendly environment and the authentic traditional massage of the Sapel Spa.  This Spa offers a wide range of massages including aromatherapy oil massage, feet exfoliation, basic foot massage and many others. It is quite a pricy spa but they provide 5-star-quality service for you to enjoy the most value for money. Since the well-trained masseurs can communicate in English and Chinese, you will find it very convenient.
Inya Day Spa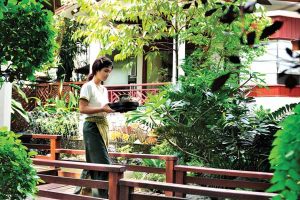 If you wish to find an affordable spa when you are on a budget, you should choose Inya Day Spa. This spa will provide high level service and it offers a wide range of services including Thai massage and others. You will be impressed by the green garden and relaxing environment at Inya Day Spa. Since they have opened another branch at "Junction City" mall in downtown, you can easily get access to it. Apart from massage, you can also get facial, pedicure, and manicure.
Health Blessing Massage and Spa
Health Blessing Massage and Spa have received the TripAdvisor Certificate of Excellence award in 2016. So we don't even need to explain why this spa is one of the best spas in Yangon. This spa offers the clean, relaxing and friendly environment, and masseuses are trained in the ancient technique of Thai Massage. The price is quite affordable and they provide aromatherapy, body scrub massages, Thai herbal massage, manicures and pedicures as well.
La Source Spa
What you are looking for is a fancy luxurious spa, La Source Spa is the right place for you. This is the spa where many A-list Myanmar celebrities frequently come and the entrance itself is already reflecting luxury. They provide not only massage but also vast range of basic spa treatments. La Source Spa also offers waxing service and you can get a beauty makeover at this luxurious spa.
Yangon Sanctuary Spa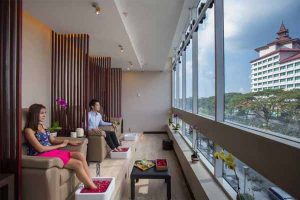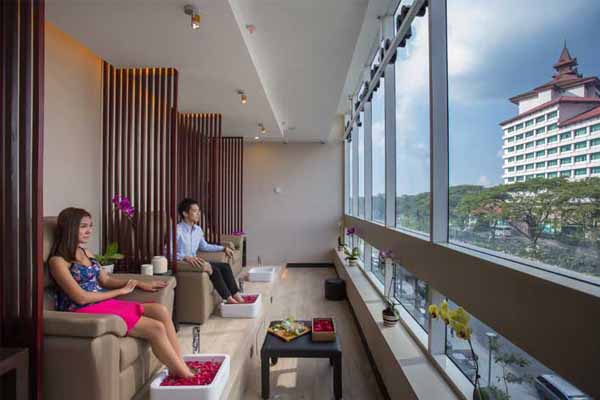 Yangon Sanctuary Spa is located at Taw Win Center and it operate together with a beauty-salon. The therapists and masseuses are well-trained and the spa provides a warm and family-like atmosphere. The facial services are well-known and they use the solution-led Dermalogica facials. You can also get your hair done at the salon and they also offer decent waxing service.
Our team did research and listed above five Spas as the best spas and massage in Yangon. But we are sure that there are many other spas which offer best quality of massage and spa treatment. You just need to do some research before choosing the one. Our spas and massage directory in Yangon will help you to find the right one.