This is our list of oil massage spa in Yangon. Some of the spas from this list also provide happy ending massage on demand. Our blog has separate posts about happy ending massage in Yangon and Mandalay. This post is intended to provide oil massage places in Yangon.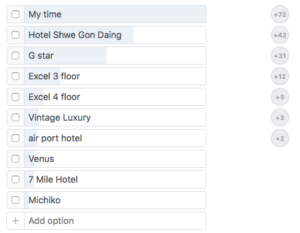 This poll is created in one of the local massage information sharing community by group admin.
My time spa from RGN city Lodge hotel took the first place at the poll result. It is located in the mid of Yangon near china town area. Their room offer cozy and tidy look. And masseur from my time spa are experienced masseur.
Detailed address is: 6th floor, RGN city lodge, No 142/C, Min yae Kyaw Swar Road, Lanmadaw Township. Phone: 09 42 00 33 409
Actually Hotel Shwe Gone Dine also provide the best oil massage experience for it's customers, but because of it's price, it sits at 2nd place at the list.
If you are visiting to Yangon, it is wise to take a room at Hotel Shwe Gone Dine, then you can enjoy massage service without looking at other places.
Oil massage price starts at 30,000 MMK per session at Hotel Shwe Gone Dine.
G Star
One of the best massage service which is not attached with a hotel. As it is not located in the downtown area, G star sits behind the above two places. Actually it is not very far away to go G star from downtown.
G Star is the one of the most famous spa among local people. Oil massage price starts at 20,000 MMK per session at G star.
This is also famous place for oil massage and it is located in most easily accessible area of Yangon. You need to clarify at the reception that you want oil massage.
Because Excel Treasure has two level of massage, traditional massage at 4th floor and oil massage at 3rd floor. It's oil massage offer reasonable price and masseur are experienced girls.
If you are not on budget and looking for the most luxurious oil massage in Yangon, this place will be your choice. It is a hotel built on the bank of Yangon river. Rooms are very clean, cozy, tidy and luxurious. And also the services are great. And price are also higher than above places.
If you are too sensitive about crowded place and high traffic, you can choose a place to stay near Yangon Airport. There are several good hotels around Yangon Airport. One of the places is Yangon Air port hotel.
Yah,,, You can also have oil massage there. Deluxe spa is located at Yangon Air port hotel. Oil massage price starts at 25,000 MMK per session.
It is located on the Yangon International airport road. Phone: 01-533354 ~ 58
Venus spa is located near to Thuwanna Football stadium in Thingyangyun township. It is quite far from the down town area. It is a little bit pricy and oil massage starts at 35,000 MMK for 60 minutes.
Here is the detailed price list at Venus spa
Body Massage
60 Min: 20,000 Kyats
90 Min: 30,000 Kyats
Body Oil Massage
60 Min: 35,000 Kyats
90 Min: 52,000 Kyats
Seoul Hotel
Most of the people regard Seoul Hotel as a place for traditional massage service. But they also provide oil massage service. You can even demand for happy ending service at Seoul Hotel.
Address is 8A, Min Dhama road, Mayangone Township, Yangon.
As I mentioned earlier, happy ending massage service is also available on demand at above places but you can also enjoy simple oil massage there.