Some of the blog readers are asking me about gay massage in Yangon. It is quite hard for me to get those information at first, but I tried to explore through my network and finally one of my friends provide me the following list with detailed addresses.
At these places, you can get massage service provided by male masseur. So if you fancy about male massage, these are the right place for you.
I would like to recommend you to check in advance with phone, may be you can ask help of your local friends to enquire of their availability.
The price is ranged from 8,000 MMK to 20,000 MMK per session and they also provide some VIP service which will cost around 25,000 MMK.
Most of these spa are not located in downtown of Yangon, but all are in the reachable distance from the downtown.
Paradise Spa
No 12/A, Ground floor, Thiri (7) Street, Ward (2), Hlaing Township
Dream work spa from South Okkala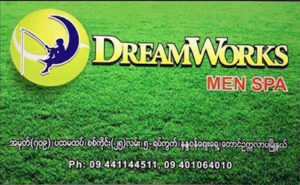 This spa is situated in South Okkalapa Township, I also put the price list from this spa below.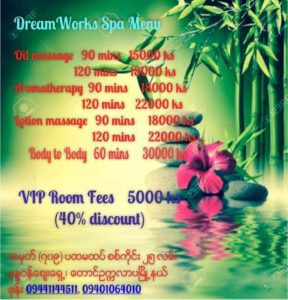 No (719) First floor, Sagaing (25sth) street, 5th ward, infront of Nandawon market, South Okkalapa.
BFF (Therapy for Gents)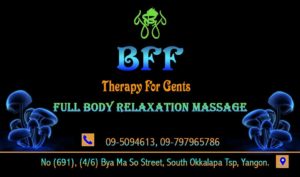 This massage is also located in South Okkalapa Township. The full address is No (691) (4/6) Bya Ma So street, South Okkalapa Township.
Cele Spa from Hledan Township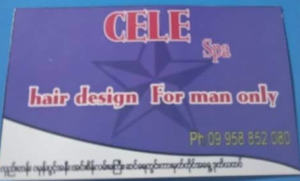 Hledan township is already congested with many spas. It is situated on InnSein main road near Sin Yay Dwin Bus stop.
Smart Boy Spa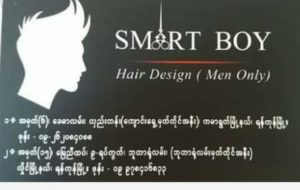 This spa has two branches, one in Hledan and another one is in Hlaing Township.
Hledan Branch: No (6) Khaymar street, Hledan, Kamayut Township, phone: 09262084088
Hlaing Branch: No 15, Ground floor, 9 ward, Train station ward (Bu tar yone ward) Phone: 09978416833
Yangon Boy spa for Man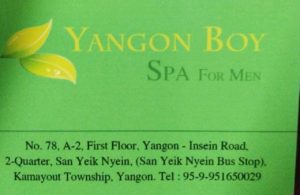 This one is also located nearly to Hledan. It is situated on the Yangon Insein Main road.
Full address is No 78, A-2 First floor, 2nd Quarter, San Yeik Nyein (near San Yeik Nyein bus station).
Phone: 95951650029
We are not sure about what kind of services you can get from above man spa.
But if you are looking for a happy ending massage in Yangon, you can read in the following post.
To Read: Yangon Happy Ending massage