Hi, Guys, long time no posts at this blog. Sorry for that.
When Covid 19 hit Myanmar, it was difficult to operate massage and its related services under Covid 19 prevention measures. But now luckily, Covid 19 caseload is decreasing (thanks Gods), it is not staying for long.
Do you know that after Military Coup happened in Myanmar, everything went crazy and miserable, but some businesses became more profitable and more operatable.. Among these businesses, the Massage and spa business becomes booming in Myanmar, especially in Yangon, some of the services operate as fixed massage parlors, but some operate on digital platforms.
I collected some massage and spa information and listed it below. I admitted that I haven't been to all of these places, I found some information on the internet and I am not sure about the reliability and quality of their services.
Massage Parlors
Esperado Spa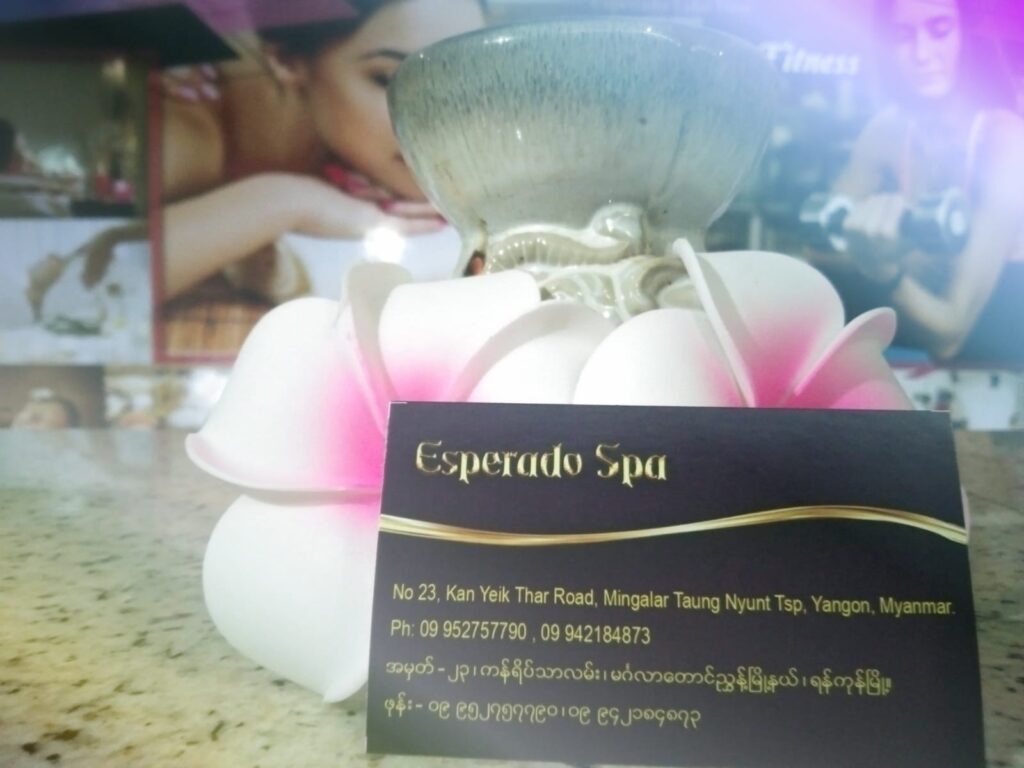 This is located at Esperado Lake View hotel near Kandawgyi lake, so the location is convenient to get from the downtown area. You can get their service in either spa room or hotel room if you are staying at Esperado Lake hotel. You can see the address at the above image.
They frequently offer promotions for their services and here is their promotion price.
Aroma Oil Massage (60mins) 25000Ks
Aroma Oil Massage(90mins) 40000Ks
Aroma Oil Massage(120mins)50000Ks
Traditional Thai Massgae(120mins) 35000Ks
Body Scrub (60mins) 30000Ks
Special Body Scrub+ (Oil) -(120mins)55000Ks
007 Spa
If you want to be a James Bond, you should go to the 007 Spa. Just kidding. One of the good things at 007 Spa is you can choose the massage girl you want to have. they will stand in front of you like the following images.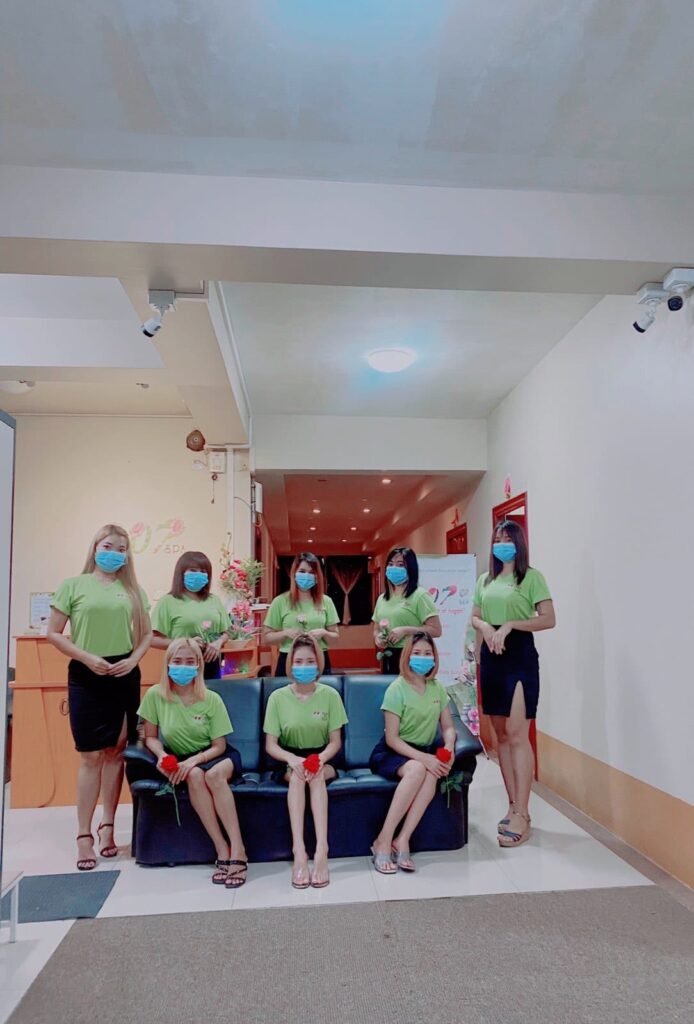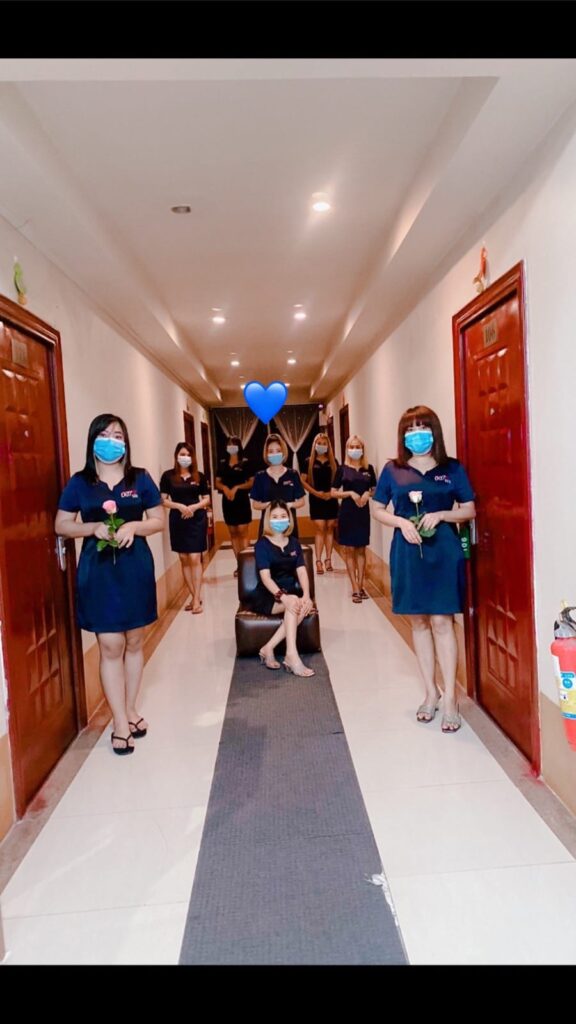 They offer a different kinds of massage services, including hot mustard oil massage. You can see the price below.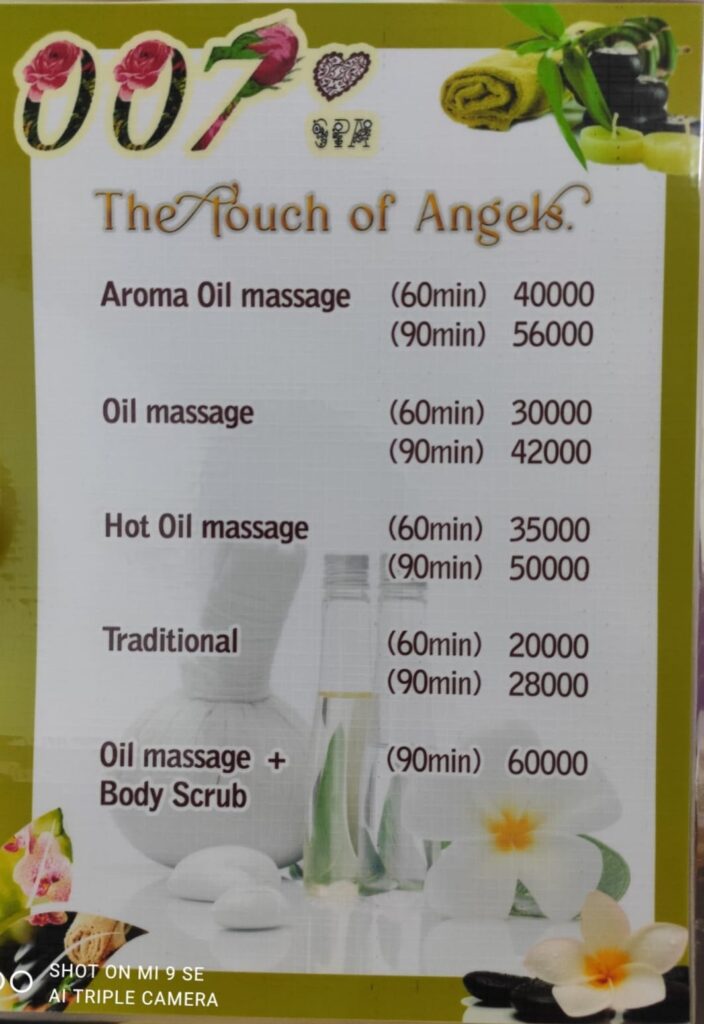 Address: the first floor of The Moon Hotel, Ywarma Kyaung Street, Hlaing Township.
AAA Spa Yangon at Excel River View Hotel
Some of you may know that Excel River View Hotel has a large pool which is usually crowded during the weekend. So it will not very convenient to go there on a weekend.
AAA Spa Yangon mentioned itself as a family spa, it has a family-size massage room for groups. But if you would like to have another additional service, you may probably request them. But I am not 100% sure about it. The address can be seen at the below image.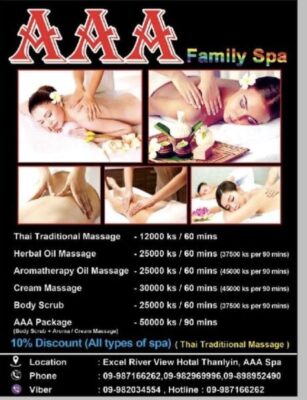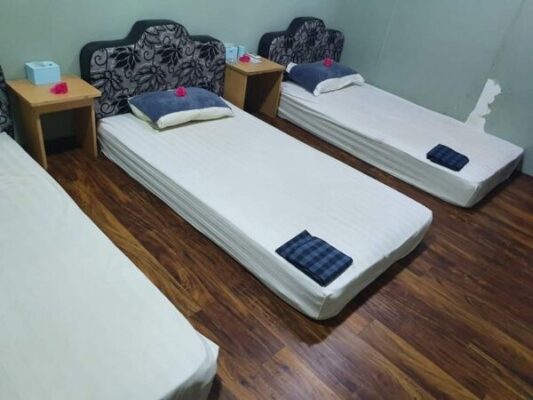 Shwe Yadanar Spa at Golden Yadanar Hotel
Golden Yadanar Hotel is quite clean, and friendly and also has a large car parking. Located in at an easily reachable area in Yangon. This is a good place to chill out. I have been there once, oil service is quite ok. I didn't ask for additional service as I was there with my GF. So I cannot say that extra service aviailable or not.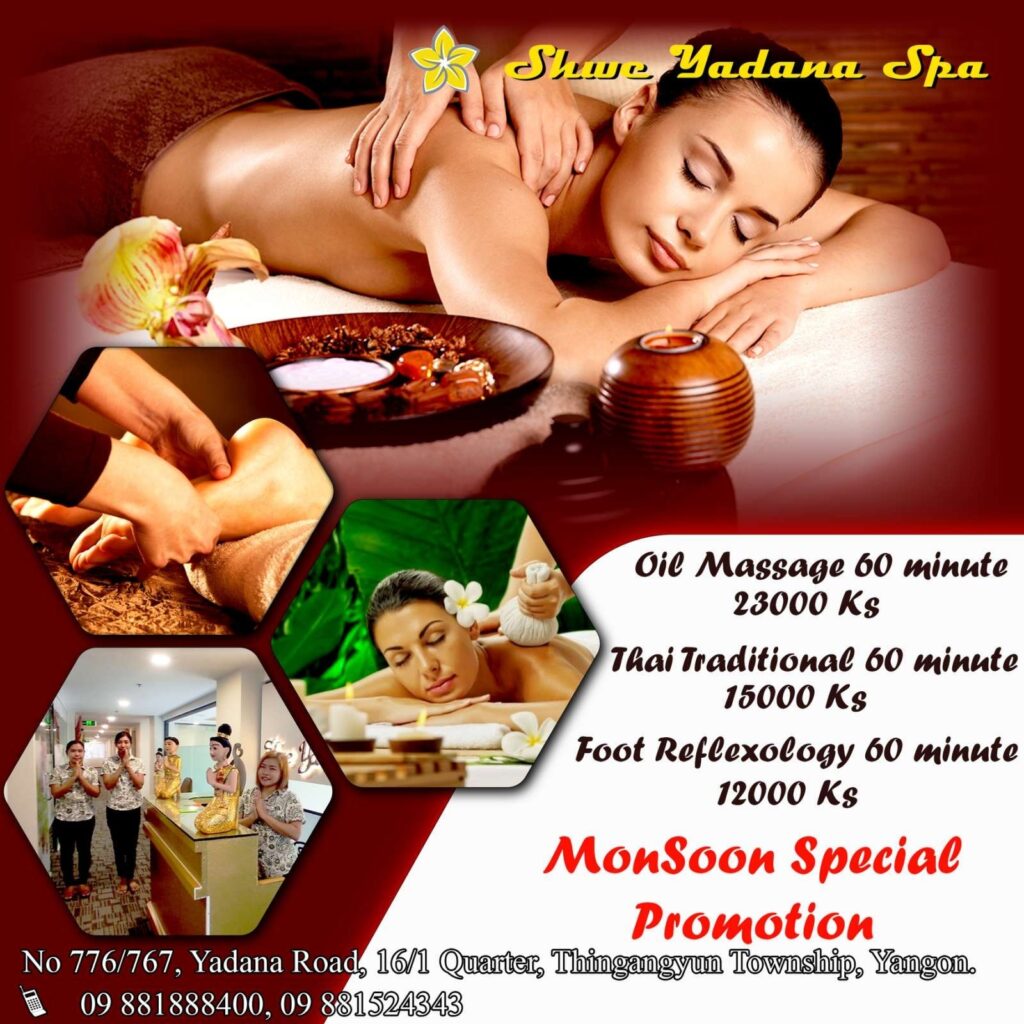 Stay tuned, I will keep updating this list.