Hi,
If you are looking to get a cure for joint pain or other musculoskeletal issues, I would like to recommend one of the places in Yangon.
This is the place where you can get herbal compress ball plus massage. And also you can get oil massage with herbal compress ball or sauna.
This place is managed by well trained traditional medicine professional and all the staff there are properly trained for compress ball and traditional massage.
You cannot get any additional service beyond compress ball or massage, so be careful not to demand happy ending service there.
It is located in Sanchaung Township and here is the exact address:
Name: Tawwin Nilar
No 41/B, Nyaung Done Street, Sanchaung Township. You should call them in advance and you can reach out to them by this number 0931346700.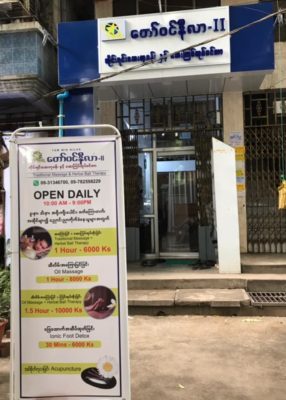 I suffered joint pain after recovering from Chikungunya attack so that I was eagerly looking to get professional massage therapy and finally found out that place.
I had one hour of herbal compress ball + oil massage which is costed for 12,000 MMK. Then all my joint pain go away especially my knee joint pain is relieved.
In term of facilities, the place is not too spacious, and they didn't turn on the air condition all the time. But it is clean enough to get the service.
Here is the detailed price list and available services there.