Bagan, the home to thousands of temples and ruins does not have ordinary entertaining nightlife such as clubs. There are bars and restaurants in the new Bagan area. And if you are a massage crazy, there are some good massage in Bagan we can recommend. But please don't expect other additional services beyond massage.
Hotel Massage service with reasonable price
This hotel is located in Nyaung U, quite far from the city area. Unless you are not staying at this hotel, it is quite difficult to reach this place at night time.
Location: Nyaung U – Kyaukpadaung Road, near Toll Gate.
They offer
Myanmar Traditional Massage (60 Mins- Ks13000)  Head & Shoulder Massage ( 30 Mins – Ks 8500) Reflexology Foot Massage (45 Mins- Ks 10000) and Aroma Massage (60 Mins- Ks.15000)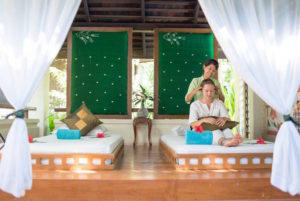 This hotel is located in old Bagan. So it is said to be at the very good location. But massage price is quite pricey.
Thai Traditional Massage price costs 40 USD for one hour and Myanmar Traditional Massage costs 35 USD for one hour.
Essential Oil massage is also available at Aye Yar River View Resort and it costs 40 USD for one hour.
Thiri Gayhar Hotel at New Bagan
You can only have Myanmar traditional massage at Thiri Gayhar Hotel. Price for a foreigner is 15,000 MMK and price for local is 10,000 MMK.
Lavandar Spa at Sincere Smile Hotel
You can have both oil massage and Thai massage at Sincere Smile Hotel.
Location: Near LawKaNandar Pagoda,Khan Laung, Anawrahta ward, Chauk – Nyaung U Road,
Massage not attached to Hotel
Lily Spa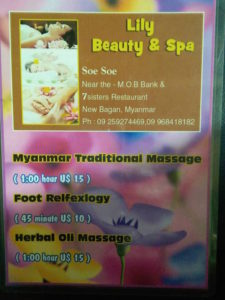 It has both traditional and oil massage service and oil massage costs for 20,000 MMK for one hour.
Location: at the corner of Nweni Street and 3rd Road, New Bagan
Acacia Day Spa
Tripadvisor recommend massage spa in Bagan is Acacia Day Spa.  Acacia spa Package price are as follow.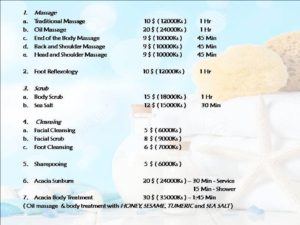 Location: Beside of Bibo Restaurant, Near FIT Road, Nyaung Oo.
Massage at High-End luxury Resort
This hotel offers Harbel oil massage, Traditional Thai massage, and foot reflexology.
It offers Traditional Thai massage, Head and faces massage and Head and Shoulder massage.
Wellness retreat package at Bagan Lodge Hotel is costing around 100 USD per session. But you will get the best wellness service there.